On May 26, 2012, Fandecie FAN DIFI , the leading brand in China's young trendy lingerie, staged a spectacular "Come & Play2012 Bridal Veil" in Hangzhou Intime Martial Arts Store. Wang Dong, a famous anchor of Shanghai Oriental Satellite TV, was invited to be the ceremonial for this event. Together with many fans from Fandecie in Hangzhou, he presented the best of both worlds and advanced to the trend. It is reported that the event lasted 2 days, the event site rich in content, fashion show release, DJ pioneer music show, the magic wave with the match, so that local young women in Hangzhou Fendi poetry distributed brand SEXY & CHIC fashion charm! Wonderful interactive activities at the scene, the girls are actively involved, the positive energy of youth is burning here passionate, daring creative creativity in the surging here. Fandecie has set off a vanguard craze for young, trendy underwear nationwide ...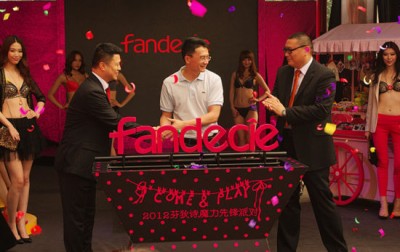 "COME & PLAY 2012 Fendi magic avant-garde party" Hangzhou wonderful staged
SEXY & CHIC Pioneer fashion visual arts
Fandecie Fendi poetry, from the world-renowned underwear Kingdom Embry Group's young underwear brand since its inception in 1999, it has broken the shackles of Eastern and Western cultures, the trendy London fashion and Tokyo's comic art perfect blend of pioneer's personality Attitude interpretation of the dynamic fashion women's sexy. Full of magic art shop furnishings, Hyun moving stage, details of the hand-painted graffiti, multi-angle display fendi poem SEXY & CHIC avant-garde fashion visual arts.
From design to finished products, from the details to match, Fendi poetry vividly carry forward the SEXY & CHIC fashion style, integration of technological innovation and fashion design products not only inherit the traditional garment industry Seiko fine work, more full range of categories to meet the fashion women A variety of underwear needs, Embry Group strong quality assurance system, the products have to undergo a rigorous test, is the real green eco-textiles. Fendi poetry to the optimism, self-confidence, independence, individuality of the younger generation, bringing a natural comfortable, healthy and comfortable wearing feeling, a free mix and match, the pleasure of physical and mental self-enjoyment.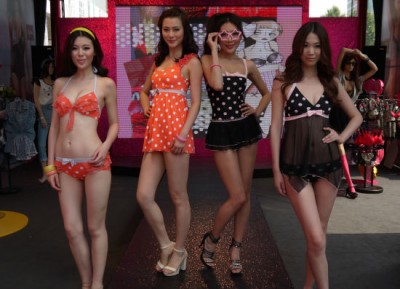 Fandecie has set off a vanguard of young fashion underwear throughout the country
Fendi poetry magic show, playful mix and match, style changeable
Event opening, T stage staged a grand magic feast, Model are as glittering, wearing hot Leopard, passionate free cowboy, bright sexy magic color high profile appearance. Fendi poetry full of fashion magic SHOW, trendy mix and match the chemical reaction inspired Super Sexy's infinite charm, fusion Dreaming Girl's fantastic sweet, Lucie's World brings the freedom of youth freedom of imagination, Forever Young energetic youth Rush passion, and Super dream fairy forest dreamland. Gather sexy, whims, pure, cute, natural, casual mix and match, changing design style, the perfect show fendi poem Sexy & Chic fashion magic.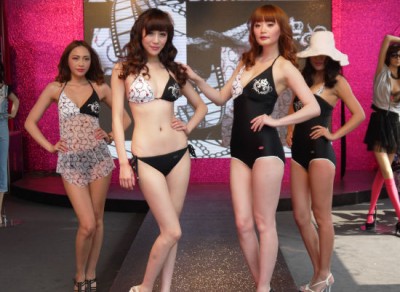 Fendi poetry magic show, playful mix and match, style changeable
This season's hot hot lace and black lace perfect blend of patterns and bright colors of the bold collision of passionate mashup no doubt become the focus of fashion. In addition, the detonating eye and fendi poetry launched 2012 new season swimsuit. Set the charm of wave points, classic stripes, luxury lotus leaf and other fashion elements as one of the bikini-style, blowing a strong retro sexy style, exposure, will make you deeply in love with this Hollywood-style Sexy; full of cool and release the wild charm of the Symphony Leopard and sexy chain combination, to help you advance to the next one of the modern state of the girl; hot American caramel sweetheart zero bondage and smart fun, showing the sweet girl with Spicy double temperament, cute and playful without losing the charm of the feminine.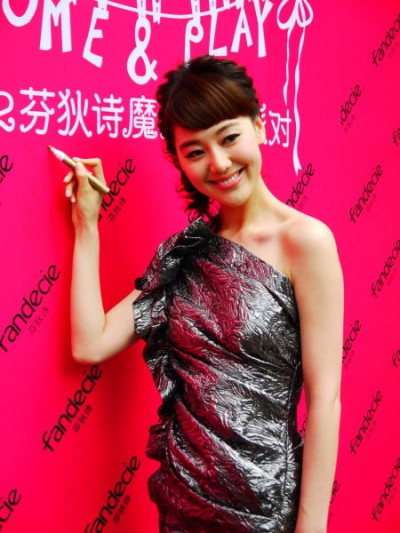 Fendi poetry is to create a colorful underwear kingdom
Young, do not ask the age asked attitude! In the boundless world, personality and the passion of the collision, the perfect combination of sexy and innocent, fendi poetry is to create a colorful underwear kingdom.
Our Ski Pole Straps are professional skiing aids. The Cross Country Ski Pole Strap comes with a good padding to make it more comfortable for skiers. The Ski Pole Wrist Strap allows you to push the rod harder without holding it tightly in your hand. It also prevent poles from falling to the ground in high-speed motion. If you have any questions or personalized needs about the Ski Pole Strap, please fell free to contact with us.
Ski Pole Strap
Ski Pole Straps,Cross Country Ski Pole Strap,Ski Pole Wrist Strap,Swix Ski Pole Strap
Shenzhen Hongxiangwen Hook&Loop Co.,Ltd , https://www.hxwsports.com