On June 19th this site , Pitti Uomo didn't have a lot of street photographers at first. It was shot by street photographer Scott Schuman and it was called "Super Bowl for Men's Fashion". Street photographers have increased year by year. They soon discovered that the style of the fashion week spread on the T stage, and Pitti Uomo could say that the entire street was a T station. Men spontaneously dress themselves up, allowing the photographer to stop pressing the shutter finger.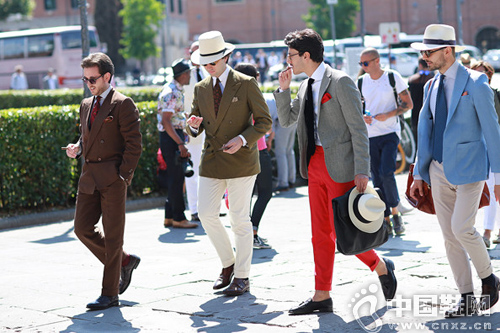 Florence, home to Pitti Uomo, was the birthplace of Porticielli, Leonardo da Vinci, Raphael, Michelangelo, and the Renaissance art capital of the world. With this city as the background of the display, if the man's dress style lacks elegant style, harmonious colors, and exquisite details, then the picture is not quite right.
Even in the summer, the Pitti style still maintains its own tradition: gray and navy are the constant main colors, and the decorative details such as pocket towels and scarves are indispensable, and well-cut three-piece suits are more accurate. The essence of dandy menswear has never changed since the eighteenth century - gorgeous and sexy.
Put on other city streets, so wear may be overly suspect. However, in Florence, a ritual sense of dress was formed. Even in the hot day's rush to discuss serious things, men may still wear impeccable.
No1.
Drew Holmes
One of the co-founders of the Nigel Cabourn brand from London
High temperature measures: linen fabrics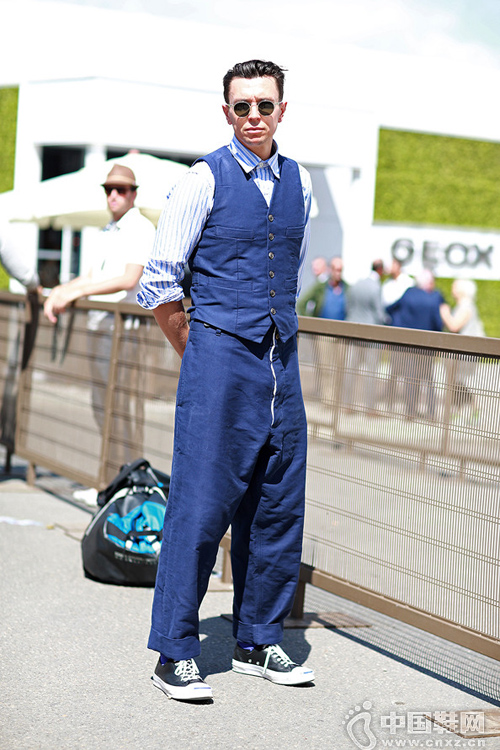 Folding is not a detail that must be exhausted. At some point its appearance can add some personal touch to the dress. The combination of a navy blue vest and loose, wide-leg pants, including canvas shoes, is not surprising in today's men's world. However, the linen fabrics not only have good air permeability, but also form natural folds in the wear, allowing the navy blue to appear leisurely but without lack of elegance.
No2.
Valentino Ricci
Italian co-founder of menswear brand Sciamat
High temperature countermeasures: the will of a gentleman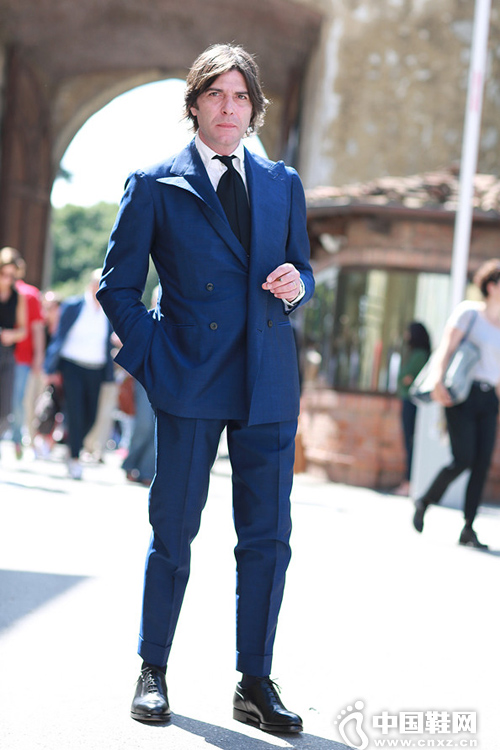 This is an example of a gentleman who can be viewed as a textbook. Even during the summer, almost every tradition is strictly observed. The navy blue suits have an unwritten set of rules: Wearing a high-collar white shirt, accessories debut brown or black leather belts and leather shoes, to avoid all the details of excessive flash, even shirt buttons can not flash. The reason why it becomes a classic collocation is that this color not only appears less sharp at night, but also maintains the overall visibility during the day. Mr. Valentino Ricci was an attorney who learned his own self-study and created his own menswear brand. He may be seen as a good example of wearing a rigorous yet demeanor, and it can not help but lament that a gentleman's will is omnipotent—even learning how to dress himself.
No.3
Tiberio Pellegrinelli
Fashion consultants and buyers
High temperature countermeasures: Skin that exposes the chest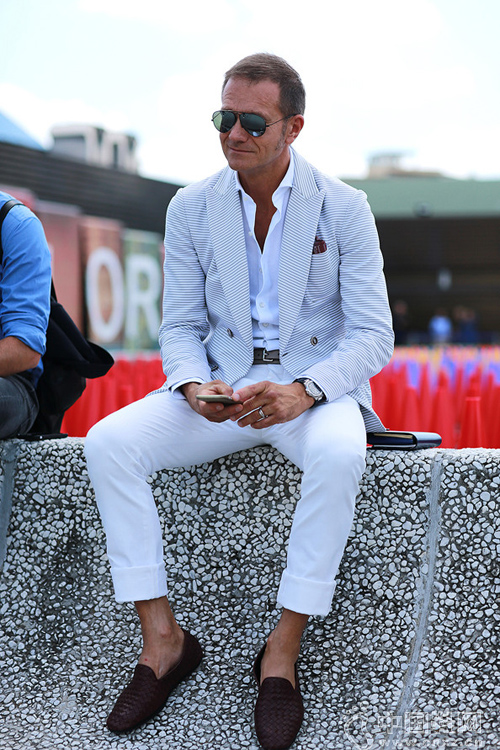 This is already a street beater and will be listed on the best men's attire list every year. However, I am very low-key and I almost never register myself on any social networking sites. He personally prefers a dress that is dynamic and sporty, and can switch freely between everyday life and the office. His clothes are always in harmony with the overall tone, and the color of the pocket towel, knitted loafers and belts, and watches are the same. When he appeared personally during the summer of Pitti Uomo, he would always apply his shirt button to his chest. The trousers would be pulled above the ankle bone. This light-colored dress no longer requires tie decoration, the skin color after the sun is the best embellishment.
No.4
Danilo Carnevale
Fashion consultant
High temperature countermeasures: light-colored collocation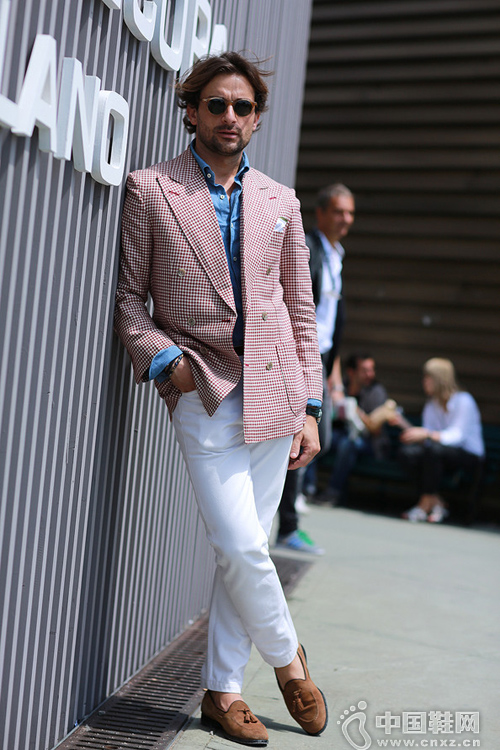 As a fashion brand consultant, he chose to wear a retro style dress. Mai Le Fuk is a type of shoe that was first introduced into the fashion circle by American gentlemen. Its predecessor was closely related to the style of the college. Plaid double-breasted suit color is also quite retro style, but the denim shirt is the gentleman to create contrast in this season tips. You can see that he has put a denim shirt in a double-breasted suit with various wide-collar collars, while the shirt cuffs just barely expose the sleeves of the suit. Denim blue can be layered with various coats, provided the lower body is lighter than the upper body, such as white or beige.
No.5
Guillaume Bo
Overall image consultant
High temperature measures: rolled up cuffs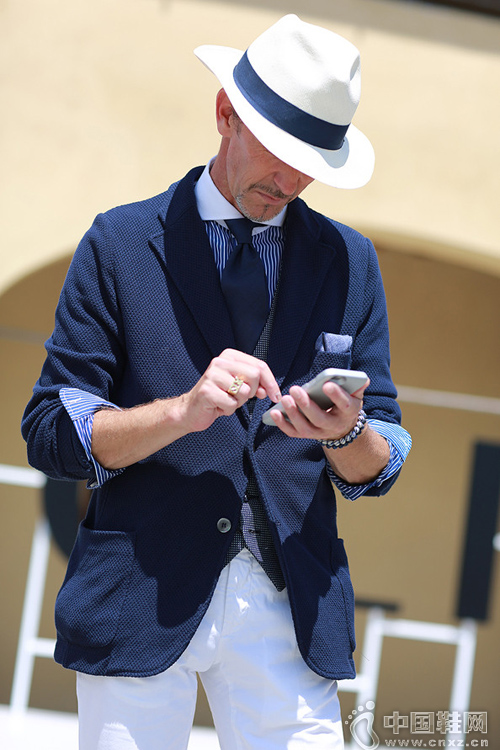 A Panama straw hat can cover the sun and summer style, and the navy blue is still the main color of this collocation. It also echoes on the straw hat ribbon. The color-collar shirt is a bright spot that deserves attention. This is a classic single item of dandy men's style. It was born to meet the color needs of men who must reveal the white shirt collar. With color-collar shirts, even if the cuffs are rolled up, you don't have to worry about a dull white-blue color, but you can still maintain a rich sense of detail.
No.6
Luca Rubinacci
Italian traditional custom menswear brand Rubinacci creative director
High-temperature countermeasures: Keeping loose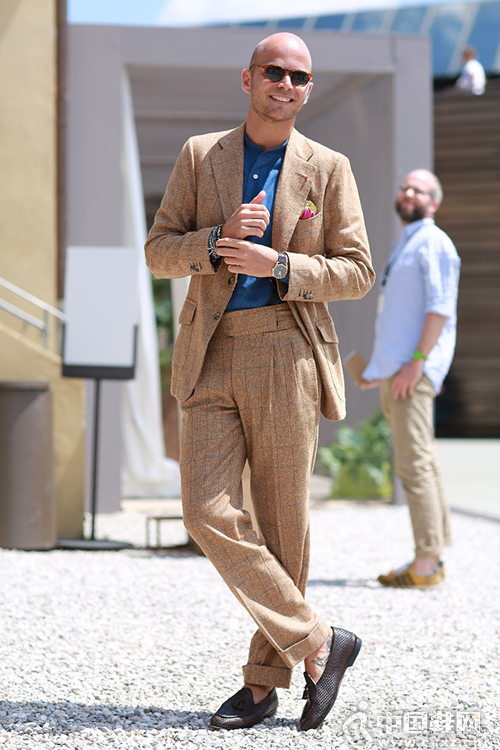 This is a family of menswear custom brand with plenty of retro fabric resources. Its history can be traced back to 1939. It is famous for its Neapolitan suit style, featuring soft natural shoulders and unique decorative waist details. So his trousers do not need to be worn with a belt. They can stay loose and more breathable. His personal style is inspired by the British dandy style. The fabric of this suit even has the shadow of the Duke of Windsor.
No.7
Drew Hoare
Australian Men's MJ Bale Brand Manager
High temperature countermeasures: break monotonous with printed tie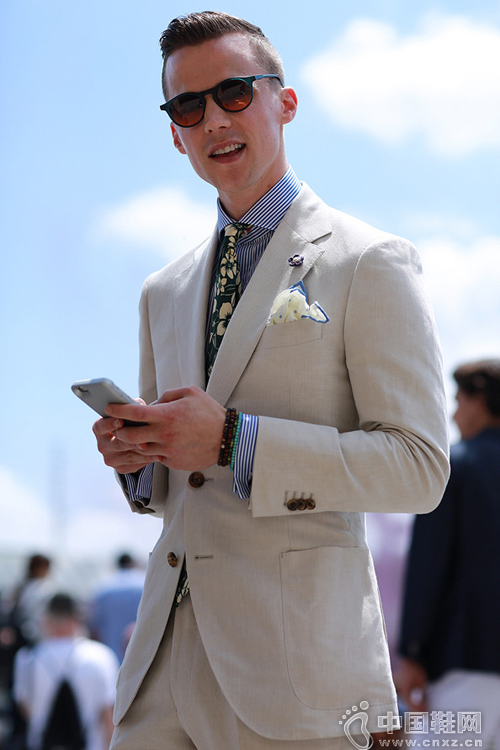 The observance of tradition brings harmony and elegance, while breaking the tradition creates a vivid and active visual impression. According to tradition, the tie's pattern can not be more prominent than the shirt, and Drew Hoare chose not to do so. Printed ties and flower-inspired suit collars bring some special highlights to light-coloured linen suits.
Tips: Pitti Uomo Summer Features

Wild gentleman shoes
Pitti Uomo is a paradise for monks and loafers, on the one hand because they are classic shoes for formal occasions and on the other because these shoes have been refurbished in many different designs in recent years. Although the Oxford shoes also meet the above conditions, but it is not a very suitable type of shoes to wear in the summer, and is too serious, and Florence is not enough to match the streets of the town.
Grey stylish
With a white beard and silver hair, these are often seen on Pitti Uomo. If the scar is a man's romance, then gray hair is the best footnote for the old gentleman. After years of age, but still upright posture, grace, this style of demeanor is not what anybody can have. The strong light of the summer brings special light effects to the grey and white, and it is totally different from the senses brought by the cold weather.
Summer pants
Even if the shorts are very hairy, wearing them on Pitti is still a little unsuitable. Therefore, gentlemen chose light-colored trousers to match their suits more during this season. White, beige, light gray are the most popular choices, low-key can match the steady coordination of the accessories, and some high-profile can choose to try to bright the pure colors such as red, bright yellow, a bit two colors that change the atmosphere of the entire dress.
sunglasses
All kinds of sunglasses with facial features are indispensable in this season. In addition to appearing on the face, sunglasses can also be put into the chest pockets of suits. This is the right way, and it also turns sunglasses into a clothing accessory. (This site - the most authoritative and most professional footwear information center. Cooperative media: than love point shoes)
Duang!! Sweep, there is a surprise!!!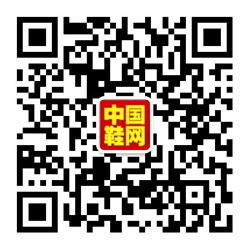 · "Bai Xia Girl" likes to wear on the upper foot
· Rejecting ugly rain boots The most IN patent leather shoes are your rain
·Admiralty body waterproof shoes make travel more pleasant
·The smart men wear comfortable shoes with comfortable feet to fly
·New Balance leads the tidal wave father to record
·[Shoes · Will] 23-year-old signature shoe is very show?
· Natural Kings, exclusive 70 year old Danish Humvee shoes
· Cats and shoes fire? Every girl should have a pair of Hepburn
·The white dress is not "small white"
·Pleated skirt with what shoes with different wipe out
Rayon Twill Dyed,Custom Rayon Fabric Printing,Twill Fabric For Shirts Dress,Twill Printed Fabric
SHAOXING YINGSIPE TEXTILE CO.,LTD , https://www.chinayingsipei.com