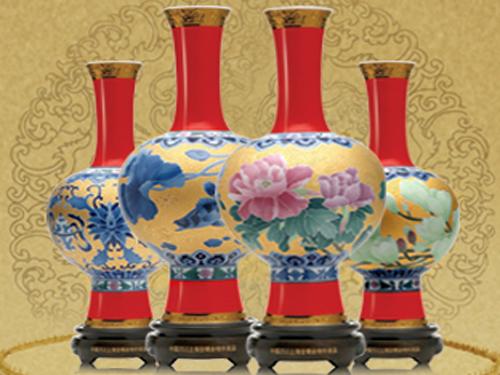 China, the capital of porcelain, is also a red country. China Red Porcelain, which perfectly combines "porcelain" and "red", has been well received by all parties for its unique porcelain, complicated process and difficult production.

The red glaze of Chinese porcelain is made from rare metal enamel. The metal enamel is a precious metal that is more expensive than gold. The gold pattern on the red porcelain is made of pure gold with a purity of over 99%. Say that Chinese red porcelain is made of gold. Chinese red porcelain reflects the noble taste of art treasures and the real value contained in the materials.

Today, Chinese red porcelain uses red porcelain craftsmanship in everyday life utensils, enabling ancient porcelain that can only be enjoyed royally into modern life. Each product of China Red Porcelain, from design to R&D, is carefully selected and conceived by professional designers, and combined with different ideas to create the fine craftsmanship. Whether it is appearance or connotation, you can see the designer's ingenious ideas, so the product has a high artistic value and ornamental value.

Red porcelain is a unique porcelain variety in China. In terms of technical terms, red porcelain is also known as glaze red. As the name suggests, red porcelain is dominated by the Chinese traditional red color. The red porcelain is colorful, bright and shiny, beautifully shaped, elegant and elegant, and based on the unique technical advantages of high-temperature glaze, it can be secondary processed on the surface, accompanied by famous calligraphy or gold patterns, full of rich national characteristics and festive Color is the pinnacle of high art and modern high technology.

In terms of craftsmanship, Chinese red porcelain makers tend to be "harsh" to the firing process. Red porcelain firing is very difficult, the process is complex, usually four times into the furnace: First, the prime burn, the second is the glaze, the third is braised, the fourth is gold burn. There should be no deviation in each link. Under normal circumstances, China's red porcelain can only produce 1 finished product in the firing of 3 pieces, and there can be 1 finished product in more than 10 porcelain pieces in large-scale finished products. Nearly harsh manufacturing processes and extremely low yields highlight the scarcity and preciousness of Chinese red porcelain. An excellent red porcelain work often has high-tech content, rich cultural connotation, high aesthetic value and collection value.
Aluminized Aramid Cloth,Bullet Proof Fabric,Aramid Woven Fabric,Aramid Knitting Fabric
Wuxi WenqiIndustry and Trade CO.,LTD. , https://www.wenqiIndustry.com