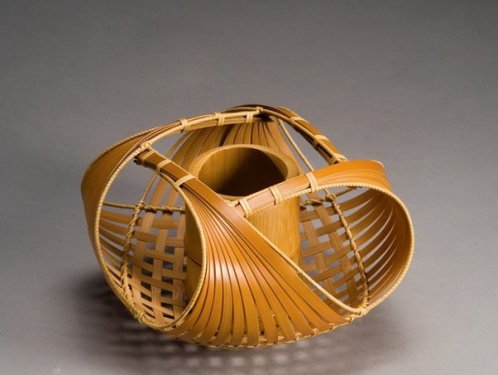 "In Qingshen, bamboo is more expensive than gold!" This is not a sensational legend but an actual industry. In Qingshen County, Meishan City, Sichuan Province, known as the "hometown of Chinese bamboo weaving art", 10 yuan of bamboo can be crafted with millions of yuan of handicrafts, and the state-level intangible cultural heritage of "Qingshen Zhubian" has come out of an industry. Inheritance and development of the road, the local bamboo and weaving artists "by bamboo" "edition" out of the small ocean floor, "editor" out of the car, "editor" out of the new rural happy life.
Bamboo and Bamboo Enforce Farmers' Income Increase
"Bamboo and the Qingming River on the River", "Bamboo and the Founding Ceremony", these things that seem to be completely unrelated to the relationship are linked through a bamboo woven technique, and the ordinary bamboo has become a valuable art piece. In Qingshen County, bamboo is selected, bamboo is cut, bamboo is removed, bamboo is sawn, shaved green, Qikou, open block, Qiu, scraping, cooking, dyeing, splitting, weaving. After a complicated process, green In the skillful hands of the entertainers, the bamboo bamboo became thin as a bamboo wing, becoming fine as a silk bamboo, and then turned into a bamboo art work.
The reporter saw in Qingshen County that the local bamboo was lush and green everywhere. The history of bamboo weaving can be traced back more than 5,000 years. After generations of succession, the bamboo weaving of Qingshen County has grown from the very beginning of production and daily life to more than 3,000 varieties and exported to overseas, creating enormous economic value.
The reporter learned that the "Green God bamboo braiding" has been unprecedentedly excavated in productive protection. The supply of bamboo woven handicrafts, daily necessities, packaging boxes and bamboo furniture is in short supply. In particular, bamboo art treasures are sold in large quantities at home and abroad. Up to 200 million yuan. Qingshen County also developed from only one bamboo brigade company and 10 workshops in 2000 to now it has 4 companies and more than 100 individual workshops. The number of employees has grown from 200 in 2000 to 1,000, and the per capita annual income is 10,000 yuan. In the past 10 years, Qingshen County has more than 2,000 farmer households and more than 5,000 farmers engaged in bamboo woven production, which has strongly promoted the local economic development. The relevant person in charge of the Cultural, Radio, Film, Television, and Press and Publication Bureau of Meishan City calculated an account for the reporter: The figure of per capita income of 10,000 yuan is equivalent to 1,000 yuan for Qingshen farmers' per capita net income.
Bamboo into college courses
After all, the heritage of small workshops is limited. To make bamboo weaving industry, talent is the key. In 2011, Qingshen County cooperated with the Qingshen Division of the Chengdu Vocational College of Art and set up a "2+3" college ** class to train "Qingshen Zhubian" senior technicians in 2 years of secondary school and 3 years of college education. R&D, design and market development talents.
At the same time, according to the training plan, Qingshen County organizes 1,000 person-time bamboo training classes and 200 person-time improvement classes each year in order to form a trapezoidal talent team of "Qingshen Zhubian", expand production, and enrich products, effectively and lastingly. Inheriting bamboo weaving techniques.
The inheritance mode of teaching by hand and the teacher and the disciple has also been well followed. Masters of bamboo weaving, provincial inheritors Hua Hua and Yin Chao selected bamboo art aficionados from young people to start classes, teach and teach. At present, they have reached more than 2,000 local students. Through the inheritor's apprenticeship and hand-in-hand pass, it was ensured that there was a successor to the "Green God bamboo".
Passed into a non-genetic inheritance battlefield
What is the overall protection of intangible projects in Sichuan? On December 13th, at the Sichuan Provincial Intangible Cultural Heritage Project Protection Supervision Work Summary and Conservation Protection Work Exchange Meeting held in Meishan City, Sichuan Provincial Department of Culture Zheng Xiaoxing informed the Sichuan Province of national and provincial intangible culture. Heritage representative project protection supervision work. It is reported that this is the first comprehensive, systematic and in-depth inspection of the protection of non-left legacy in Sichuan Province.
The inspection results showed that of the 120 national intangible projects in Sichuan Province, 84 were in good condition, accounting for 70%; 32 were in general, accounting for 26.7%; 4 were endangered, accounting for 3.3%; there was no death. Of the 511 provincial intangible projects that were fully inspected, 294 were in good condition, 163 were normal, and 54 were endangered.
At present, there are 57 state-level non-faith inheritors in Sichuan Province and 505 provincial-level non-heritage inheritors. These inherited ** parts seriously carry out intangible project implementation and data compilation, and take initiative to take part in the arts and perennial. Insist on participating in intangible protection and promotion activities. The province has also named 145 intangible display bases or training centers, and has become an important site and carrier for the inheritance and development of intangible projects.
Cotton Face/Hand Towel
Material:100% cotton
Regular size: 30*30cm,40*40cm,30*70cm,70*140cm and so on,welcome customized size
Weight:200gsm,260gsm,300gsm,350gsm,400gsm or customized
Color:yellow,orange,green,brown,blue and so on
Logo:1.Imprinted logo 2. Embroidered 3.Jacquard/embossed logo
Towel factory:We are a professional towel manufacturer for more than 10 years

Cotton Face/Hand Towel
Cotton Face Towel,Cotton Hand Towel,Cotton White Hand Towel,Hotel Face Cotton Towel
Shijiazhuang Tangju Trading Co., Ltd. , https://www.tangjutextile.com